Hey fellas my Film Decisive Action is currently in the festival circuit! Along side this, I'm RELEASING IT ON NEWGROUND JULY 9th! Meaning that while it may not be up on YouTube or "public" just yet, it will be screened cross country!! My film will be screened so far at Short Short Fest, The 2022 ASIFA showcase, and some others! totally check out ShortShort Fest!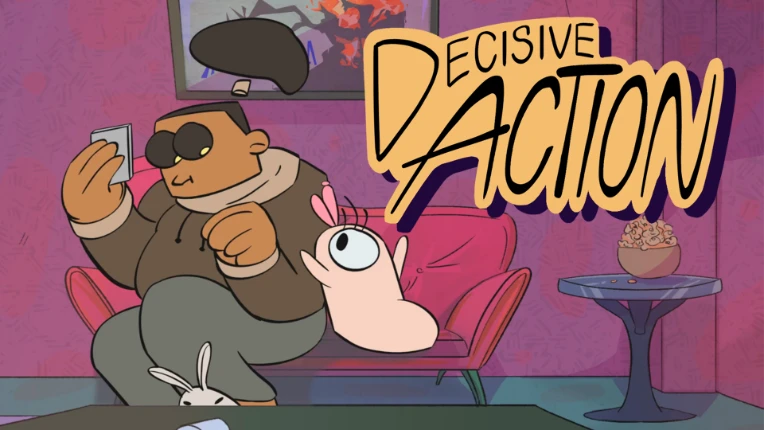 ---
OTHER NEWS
Some other exciting stuff has been happening recently, I've been actually enjoying summer, and doing a "Model Sheet a Week" challenge to really beef up my skills for characters. This is all in preparation for an Upcoming Indie comic me and @hekdiggity are working on called STOW-AWAY! If you've checked out my account or have been following me for a while, you'll recognize Ronnie, Marie, and More info will be released during September and November! In the meantime enjoy some concept art/etc that I post here! Information on where it will be posted and if there's going to be a patreon is still up in the air, but the goal is to eventually sell it as a physical copy one day!
I also joined the ranks at Smilefactory!! So stay tuned for some fun and zany animations on their YouTube channel---
I'm also working on several fun collabs like a Dance Battle Collab between me and @tyro1301, and some other ones right off the tail of Fulpware. Keep an eye out for @RagTagg's Pogo Re-Antiquated collab!! Myself and a ton of other very talented artists are working on it
I also wanted to give a very heartfelt thank you for 500 fans! This milestone flew passed me a bit which is exciting, and I'm very thankful to the community for!! Check out the amazing work of fellow artists on Newgrounds and spread the love!!